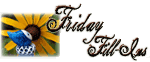 1. Thinking I'm pregnant is so exciting!
2. Strawberry fields make my mouth water!
3. Chocolate mini-eggs sound like they would taste delicious! (and are!)
4. Why do comments on my blog make me feel so good?!
5. The birth of my baby is something I've always wanted to see.
6. It's sad, very sad when you get a negative pregnancy test.
7. And as for the weekend, tonight I'm looking forward to vegging, tomorrow my plans include Adult Easter Egg Hunt and hanging out as K's gone for the day with a friend to Seattle to watch Mama Mia and Sunday, I want to CELEBRATE a positive pregnancy test and enjoy a special celebration of Easter with my aunt and family - and Monday
Kauleen
and I will have a special celebration after my blood test!!